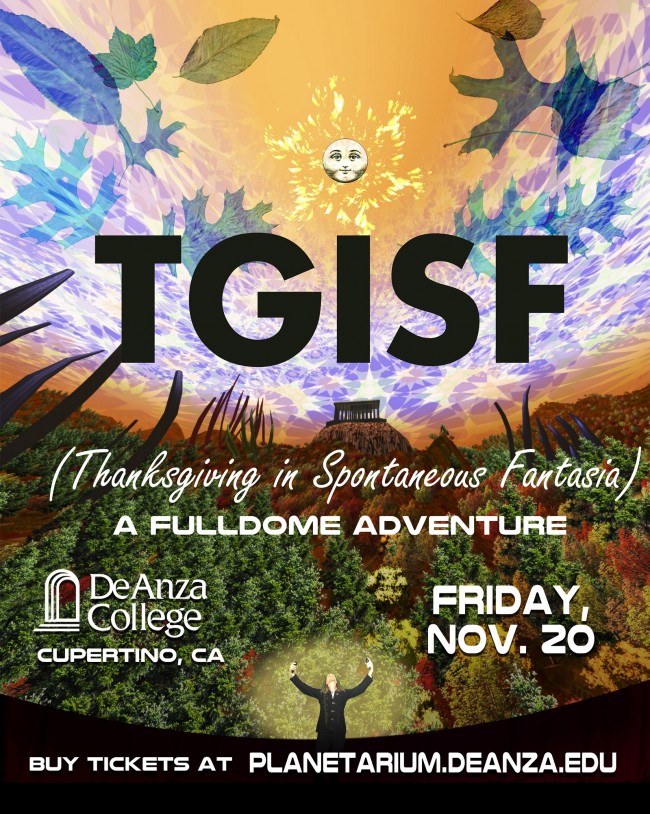 Fridays nights in Silicon Valley!
I'm doing a series of monthly performances at De Anza College through the end of 2015. I'm performing two shows for each date, and each show explores a different seasonal theme!
Showtimes are 7:00pm and 8:30pm
Click here for tickets
(Tickets are no longer available for this past event.)
---
Friday, December 18

Spontaneous Fantasia: Virtual Christmas!
Christmas, Solstice, New Years Eve… The end of the year is a time to reflect on what has happened, and what is to come. It's the end of a cycle that we revisit right on schedule with all the old traditions: We sing the old songs, we tell the old stories. The old becomes new again! It's time to imagine this tradition continuing far into the future in a Virtual Reality filled with carols and the Xmas spirit!
---
 Friday, November 20

A Spontaneous Fantasia Thanks-imagining: A cornucopia of visual splendor

Virtual Realities themed around Fall and Harvest Festivals. Music includes "Autumn" from Vivaldi's "The Four Seasons". J-Walt explores the bounties that this season brings with an improvised garden of dancing plants and cavorting creatures!
---
Friday, October 16
Spontaneous Fantasia Halloween Special: Robots, Monsters, and the Zombie Planet
Taking cues from 1950s science fiction and monster movies — and with tongue firmly in cheek — J-Walt takes on the role of the Mad Scientist! And it appears that he is about to tinker with the FORCES OF NATURE to awaken the ZOMBIE PLANET! What surprises will we encounter? Creepy spooky fun to make your spine tingle!

Click here for tickets
(Tickets are no longer available for this past event.)
This entry was posted on Saturday, October 3rd, 2015 at 3:51 am
You can follow any responses to this entry through the RSS 2.0 feed.
Tags: animation, concert, holiday, music, silicon valley, Virtual Reality, Virtual Worlds, vj, VR