The Spontaneous Fantasia live video stream can be watched by clicking the below YouTube link.
May 29, 9pm: J-Walt and Dean De Benedictis are guests on Alien Air Music presenting some of their music from their ongoing collaboration, while J-Walt performs his virtual worlds live. Join the live event! See the Alien Air Music site for more info about the show.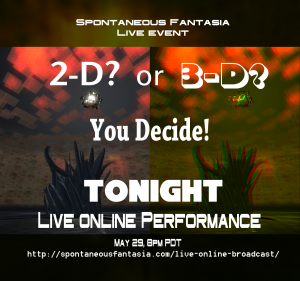 YOU DECIDE
J-Walt has the option of streaming his graphics in 3D stereoscopic (for red/cyan glasses). But he will only present in stereoscopic if enough viewers demand it! You can vote for 3D or 2D by typing your preference in the comments below, or by watching the live feed on YouTube and typing into the chat window on the side of the feed.
If we get at least 10 votes for 3D, J-Walt will enable 3D for a section of the live broadcast! So tell your friends, and get your red/cyan glasses ready!