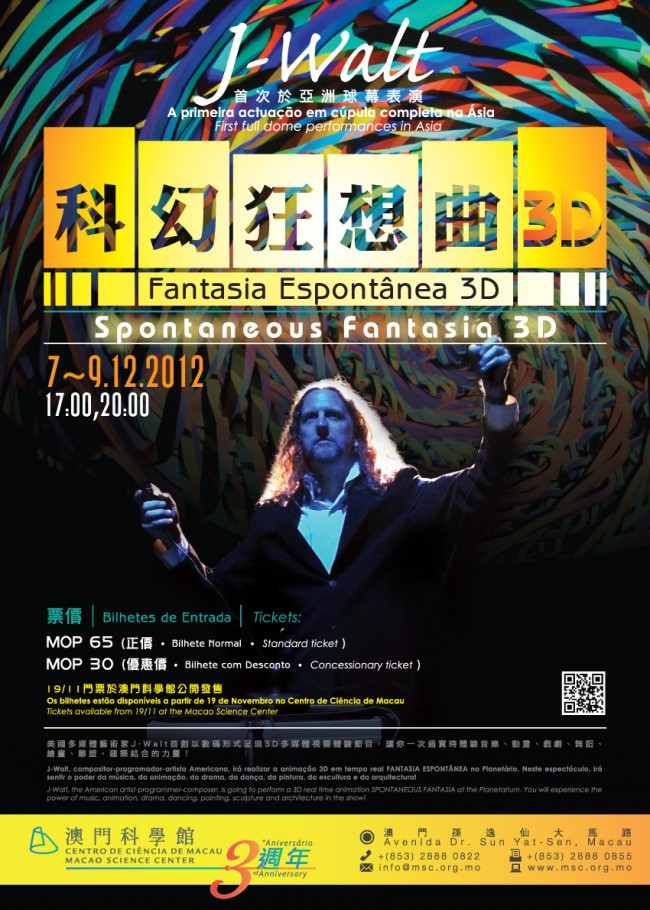 December 7, 2012
5:00 pm
to
6:00 pm
8:00 pm
to
9:00 pm
December 8, 2012
5:00 pm
to
6:00 pm
8:00 pm
to
9:00 pm
December 9, 2012
3:00 pm
to
4:00 pm
5:00 pm
to
6:00 pm
8:00 pm
to
9:00 pm
I'm performing this weekend (December 7-9) at the amazing Macao Science Center! The planetarium is one of the newest, highest-resolution immersive theaters in the world… and it's also 3D !
We initially planned 6 performances this weekend, but ticket sales have been brisk, so we've added a 7th show on Sunday.
Event page is here.
One of the great things about how my system works is that it is independent of resolution and format. This means that my work scales to almost any configuration of video theater. In this case, my system will run in a domed theater, using a Sky-Skan Definition 3D system, at 8k pixels across the image — roughly 100 megapixels projected seamlessly on the dome. The system utilizes a network of 48 graphics computers all synchronized to create a single image that I control at 60 frames per second.
I have not actually performed a full show in a theater of this graphic scale, but given my success with Sky-Skan domes around the world, I'm sure it will work and look spectacular!
Still…wish me luck!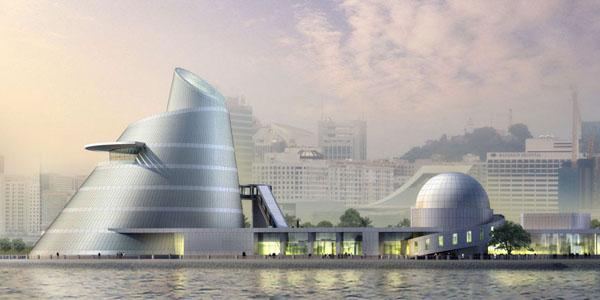 This entry was posted on Tuesday, December 4th, 2012 at 4:27 pm
You can follow any responses to this entry through the RSS 2.0 feed.
Posted in: News, Past Events