July 24, 2012
8:00 pm
to
9:00 pm
July 28, 2012
8:00 pm
to
9:00 pm
9:00 pm
to
10:00 pm
Spontaneous Fantasia in 3D with special guest Jonn Serrie
J-Walt and Jonn Serrie to perform at IPS 2012, Baton Rouge, Louisiana
On Tuesday night, July 24, a world premiere performance will take place in the LASM Pennington Planetarium as part of the International Planetarium Society's 2012 conference. Two masters of electronic fulldome art will combine their talents to create a visual and musical odyssey that merges fantasy with reality. The show will be repeated for two public performances on Saturday, July 28, as part of DomeFest 2012.
The show will be presented in Sky-Skan's Definiti stereoscopic 3D theater system, enabling the best group virtual reality experience available anywhere in the world. The combination of Sky Skan's bright high-resolution immersive theater and J-Walt's high-tech artistry have
thrilled audiences of all ages. Collaborating with electronic music pioneer Jonn Serrie adds a new dimension of possibilities.
Jonn Serrie's visionary compositional skills have revolutionized today's contemporary electronic music. He creates a unique approach by combining the timeless depths of space with spiritual musical vision, spanning the universe. His music has achieved international acclaim in new age and world music scenes. With its themes of flight and spirit, Serrie's music has brought majesty and wonder to planetarium shows for decades.
J-Walt is a multimedia wizard, combining visual and performing arts into a new synthesis of live animated spectacle. He has given more than 200 performances in planetariums worldwide. He creates his own software and art, utilizing the latest in interactive computer graphics techniques to draw 3D scenes and bring them to life. His Spontaneous Fantasia shows bring the experience of laser shows or a Pink Floyd concert experience into the 21st century.

Jonn Serrie's website: http://thousandstar.com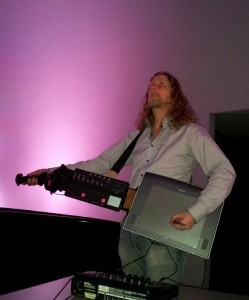 J-Walt performing in Fulldome
This entry was posted on Thursday, May 17th, 2012 at 1:35 pm
You can follow any responses to this entry through the RSS 2.0 feed.
Posted in: News, Past Events