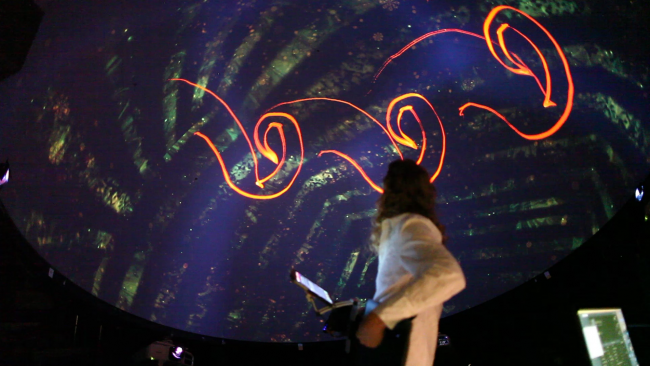 Spontaneous Fantasia Highlights from 2015
Have a happy New Year!
Here's some of my highlights past this past year:
Bueno Aires Shows
De Anza College Holiday Shows
Boulder, Colorado performances
Immersive 3D Installation Art
Fulldome breakthrough
April Coast-to-Coast
New Years on Long Island

---
Saludos de Buenos Aires!
I was invited to Argentina for a whirlwind weekend of performances at the Planetario Galileo Galilei in Buenos Aires, Argentina. The shows coincided with Halloween on October 31. The holiday is not widely celebrated there, but it is well known, so I performed a Halloween-themed section in each of the 10 shows, including my illustration of Saint-Saëns' famous Danse Macabre. This was my southern-most appearance to date, and my first shows in South America! (Only two more continents to go!) The shows were a hit with people of all ages. Click here for more pictures from the event.
---
De Anza College Holiday Shows
I performed a lineup of Holiday-themed shows at the Fujitsu Planetarium at De Anza College every month from October through December. Each show included all-new original content that nobody had ever seen before, all to a custom soundtrack that I arranged. Here are the tag lines and brief descriptions of each show:
Friday, October 16:  Halloween Special: Robots, Monsters, and the Zombie Planet
Taking cues from 19

50s science fiction and monster movies — and with tongue firmly in cheek —

J-Walt takes on the role of the Mad Scientist! And it appears that he is about to tinker with the FORCES OF NATURE to awaken the ZOMBIE PLANET! What surprises will we encounter? Creepy spooky fun to make your spine tingle!
Friday, November 20:  A Spontaneous Fantasia Thanks-imagining: A cornucopia of visual splendor
Virtual Realities themed around Fall and Harvest Festivals. Music includes "Autumn" from Vivaldi's "The Four Seasons". J-Walt explores the bounties that this season brings with an improvised garden of dancing plants and cavorting creatures!
Friday, December 18: Spontaneous Fantasia: Virtual Christmas
Christmas, Solstice, New Years Eve… The end of the year is a time to reflect on what has happened, and what is to come. It's the end of a cycle that we revisit right on schedule with all the old traditions: We sing the old songs, we tell the old stories. The old becomes new again! It's time to imagine this tradition continuing far into the future in a Virtual Reality filled with carols and the Xmas spirit!
---
Boulder, Colorado Shows
Earlier in August, I performed shows at the beautiful Fiske Planetarium at the CU campus in Boulder, CO. It was part of the Fiske Fulldome Film Festival. I performed a different program for each show. "The Omnicentric Universe", "Worlds within Worlds", and an "Epic Garden". The audiences were great. In attendance were some of the CU astrophysics staff who got a thrill from my bringing Pluto and New Horizons into the show. I'm gratified to say that I transformed some minds!
This fulldome system is among the highest-resolution in the world, at 8K pixels across the diameter. The projection is bright, colorful, and present. My wireless ANITAR operated flawlessly, controlling all 25 computers that create the entire image. I look forward to returning to the Fiske in 2016! Check out the notice from the event here.
---
Zerynthia Installations
In June, September, and December, I invited people to enter and linger within my 3D world called "Zerynthia". It's a world of mystery and wonder, arranged as a 3D video installation for people to experience. Guests watch a projected video in 3D as though looking through a magic picture window into a fantastic science fiction universe with its own flora and fauna, including wafting jellies and shuddering succulents. I consider this an "ambient video", and I made it for a target audience of adults. I am most gratified to find that little kids are enchanted by my world as well, and they often spend more time in the virtual reality space than their parents! The project was conceived and created in real-time using my performance system. Click here for more photos of the project.
---
Fulldome breakthrough
A breakthrough! My performance system now works on any dome system at any resolution! I'll spare you the technical details, but it's this kind of milestone that makes my magic possible. In May, I made a special trip to the ArtsLab at the University of New Mexico in Albuquerque. My goal was to test that my new system works in a wider variety of domed theaters. David Beining was generous with his time and facility, allowing me a few days to work on my new calibration techniques. Complete success! This breakthrough, combined with my wireless ANITAR, takes my stage gear to new levels of freedom scalability, and reliability. Click here for a short video of the result.
---
April shows in Boston and California
April had me coast-to-coast with shows in planetariums at De Anza College and at the Boston Museum of Science. I had a welcome reception back to each of these venues and met new fans at each show! At De Anza College I unveiled my ANITAR 2.0, which includes wireless networking technology, making my performance gear more reliable and more flexible than ever. This technical feat not only looks cooler, but gets rid of the wiring which made my setup so fragile. (see next item) Here's a video of me nervously testing my new system.
---
New Years in Long Island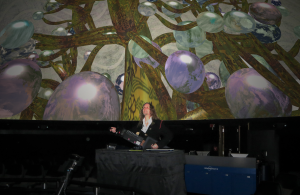 The new year of 2015 found me in Centerport, NY performing two shows at this recently renovated planetarium of the Vanderbilt Museum. I created a varied program for each performance. I had a delay at the start of the first performance, as my performance gear kept disconnecting from the system. This technical glitch had been a chronic nuisance for years, but after this event I vowed to fix it once and for all. This was the impetus for me to work on my ANITAR 2.0!